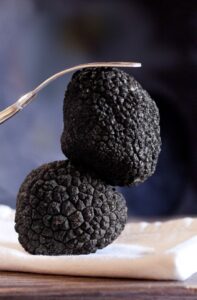 Istria's gastronomy will enchant you with its variety and balance.
Istria is known for the best olive oil, homemade pasta, truffles, wild asparagus, Istrian's ham, fresh fish, crabs, and shellfish. You will be impressed with the selection of dishes – creative or traditional. We must not forget the Istrian wines – another unique symbol that truly defines the Istrian identity.
As you may know, we have our beautiful Vineyards Poropat, and you are more than welcome to taste our wine and visit our vineyards 😊
Why is Rovinj the best destination to get to know Istrian cuisine?
Thanks to its location and popularity, Rovinj can offer you a true autochthonous experience of traditional meals in countless taverns. For those who like more sophisticated taste, in Rovinj, you will find 4 Micheline restaurants, but also here are outstanding restaurants cooking up everything from local to fine French Fare meals.
Rovinj is established as the best gastro destination of the Istrian peninsula, and it hosts the Weekend Food Festival and Roads of Rovinj Delicacies.
Weekend Food Festival
The Weekend Food Festival – the most original and most attractive festival of its kind in Croatia that gathers most important and renovated culinary stars, food and wine experts from around the world and the region. It is a unique opportunity for all food lovers to taste the world's best cuisines as well as Croatian products and wines in one place.
The event is focused on sharing knowledge, experiences, passion and enthusiasm trough panels, masterclasses and accompanying events. Gala dinners, accompanied by excellent wines, food and music, guarantee that the Weekend Food Festival will be a place of good vibes and inspiring experiences.
Roads of Rovinj Delicacies
Roads of Rovinj Delicacies is a unique eno-gastronomic event that gathers some of the most famous restaurants in Rovinj with one focus – to prepare famous local specialties made from indigenous ingredients of this region.
Roads of Rovinj Delicacies attract an increasing number of visitors, gourmets, and lovers of indigenous Istrian specialties.
---
With strong, passionate, and intense gastronomy, Istrian food and gastronomy will be a real pleasure for your senses and all of that can be found in beautiful Rovinj 😊
When you book your stay at Studio Pastello, you will be within walking distance of all the best restaurants where you can taste the best culinary gem